"Yoga Teacher Training in Ashtanga Vinyasa Flow"
( 200 hr Yoga Alliance )
Theme of the course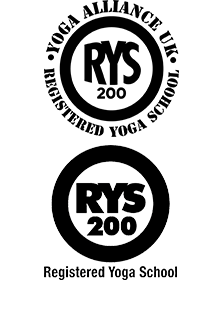 The theme of the teacher training is Ashtanga Vinyasa flow. The course is a fusion between the set sequence of the Ashtanga Primary Series as derived from the ancient text Yoga Korunta and the creative flows and sequences of 'breath synchronized movement' found in the Vinyasa Flow style of asana practice. Students will be taught the Ashtanga Primary series in order to develop a solid foundation of asana and alignment practice on which to draw from in developing and sequencing a Vinyasa Flow class, where various other asana will also be incorporated. In these styles, asana are practiced in a sequence in a dynamic and flowing style using breath, drishti (gaze) and bandhas (energy locks). By the end of the course students will be able to teach Ashtanga primary series and also create their own Vinyasa Flow sequences.
The course leads you through the proper techniques for practicing various yoga postures and Ashtanga Vinyasa yoga sequences including key alignments, modifications, contraindications and use of basic yoga props as well as hands-on adjustment techniques, teaching methodology and teaching practice.
Principles of sequencing will be taught so that students can create a vinyasa flow sequence according to the need of their students or the class. We place a lot of emphasis on learning Sanskrit names of postures to both expand your knowledge and enhance your professionalism as a teacher. Students will also have the benefit of some exposure to other styles of asana practice including Yin, and restorative yoga in order to develop their experience and knowledge of all yoga traditions.
Ashtanga Yoga
Introductions and history
The elements of Ashtanga yoga: Vinyasa (breath-synchronised motion), Ujjayi Pranayama (victorious breathing), bandhas (inner locks), dristis (gaze points)
Primary series: Sun salutations, standing series, seated series, finishing sequence
Jamb backs and jump throughs,
Drop backs
Students will practice primary series every morning three to five times in a week


Vinyasa flow
Vinyasa flow, Flow Yoga
Principles of sequencing and teaching a Vinyasa Flow class
Practicing Vinyasa flow class three times per week in the afternoons and Saturday mornings
Yin and restorative Yoga
Students will practice at least two to four Yin or restorative yoga classes per week in the afternoons
Course content in detail
Our Yoga Alliance Registered 200-hour Yoga Teacher Training Program incorporate training hours in the following educational categories and topics
Practice techniques
Practice techniques for 80 postures of Ashtanga primary series and a few more advance postures including arm balances
Modifications, other variations and advance variation of all postures
How to use yoga props like block, bolster, strap, blanket, wall in your yoga practice and rope headstand
Observation and feedback on your personal practice by teachers everyday immediately after the asana class
Posture clinics: Corrections, modifications and variations are suggested one- on- one every day after asana class or in posture clinics on alternate days in accordance with the observation and feedback made by our teachers about your practice or your own individual need.
Themed workshops on topics such as hip opening, headstand and inversions, back bending, arm balances are conducted on alternate days to help you understand and practice these safely and effectively
Daily hands-on-adjustments are given to students by expert teachers to deepen your physical practice
Posture clinics
(Every alternate days at 6.15 -7.15 PM from day one)
In addition to the main asana teacher we have at least one more full time experienced and dedicated teacher during the regular asana practice who would be making observation about your personal practice and alignment during main asana classes in the morning. The feedback based on these observations will be given to you immediately after the class so that you can take the help of the teacher to correct your alignment or choose the suitable modification on variation. The teachers will suggest you the necessary correction in your practice as soon as you have time the same day or during the posture clinics. We do this to make sure that you practice with correct techniques and alignment from the day one so that you can improve and deepen your practice every time you hit the mat; so that when you leave the course you have advanced your practice to a much higher level than you came with.


Workshops
(Every alternate days at 6.15-7.15 PM from day one)
On every alternate day we conduct themed workshops on headstand, inversions, chaturanga, jump back and jump throughs, hip opening, back bending, arm balances etc. Some of these workshops are optional and some are compulsory. We utilize these workshops to go in depth of a particular topic in a workshop format. Here we teach you everything on the theme of the day and help you practice them; and deal with your individual practice or technique or abstacles. The discussion here will also include relevant anatomy. These workshops are very interactive and we encourage students to participate actively. These workshops are meant to deepen your knowledge about various themes as a yoga practitioner and teacher.
Teaching practice
Includes practice teaching, receiving feedback, observing others teaching, hearing and giving feedback. Also includes assisting students while someone else is teaching.
You will start to teach from day one.
Students get to teach every alternate day from day one. You will teach at least 12 times during the course
You teach one on one on from the day one and then larger groups of up to four for 15-30 minutes every alternate days
You may also teach at least one full open class during the course.
Sometimes you teach in round robin style or blind folded to challenge and enhance your teaching abilities.
Regular feedback are given by teachers and fellow students about your teaching so that you can improve and find your unique voice and style as a teacher
You will learn to give hands on adjustment
Teaching methodology and technique
Principles of demonstration,
Observing, assisting and correcting,
Instruction, teaching styles, qualities of a teacher,
Voice projection, floor presence
The student's process of learning
Planning and structuring a class
Alignment and hands-on-adjustment
Dealing with injuries and safety precautions
Business aspects of teaching yoga.


Pranayama , mudra, bandhas and kriya
Pranayama (yogic breathing)
Introduction, its aspects, pranic body, different types of prana, types of breathing, anatomy of breathing, Yogic breathing,
Nadi Shodhana (alternate nostril breathing),Sheetali (cooling breath), Shitkari (hissing breath), Bhramari (humming bee breath), Ujjayi (the psychic or victorious breath), Bhastrika (bellows breath), Kapalbhati (frontal brain cleansing breath), suryabheda (vitality stimulating breath)
Mudra (Psychic gesture)
Introduction, types, Hand mudras, Head mudras, Postural mudras, Lock mudras, Lock (bandha) mudras, perinial mudras
Jnana mudra (psychic gesture of knowledge), chin mudra (psychic gesture of consciousness), Shambhavi mudra (eyebrow center of gazing), Nasikagra drishti (nosetip gazing), Khechari mudra (toungue lock), Shanmukhi mudra (closing the seven gates), Vipareet karani (inverted psychic attitude), maha mudra (great psychic attitude)
Bandhas (energy locks)
Inroduction, types, throat lock, root lock, abdominal lock, great lock
Kriya; Yogic cleansing techniques: Nasal cleansing
Philosophy


Philosophy classes are conducted for two hours each on alternate days at 3.00-5.00 pm throughout the course. These classes are compulsory for everyone.
Satsang: Sat is a Sanskrit word which means 'truth' and 'Sang' mean company. Therefore Satsang means in the company of truth or in the company of truth seekers. These are additional optional question answer based interactive philosophy classes conducted on alternate days throughout the course for 90 min each at 7.30-9.00 pm. These classes are optional and have no fixed topics for teaching. These classes are meant to be interactive and you can ask or discuss with the teacher whatever you wish or need.
Additional philosophy classes are conducted on alternate days throughout the course for 90 min each at 7.30-9.00 pm. These classes are optional and have no fixed topics for teaching. These classes are meant to be interactive and you can ask the teacher whatever you want or need.
Philosophy content
Meaning of yoga, concepts, history
Four paths of yoga ( Jnana, Raja, Bhakti, Karma Yoga)
Hatha yoga, Nadis (energy channels), Chakras, kundalini
Vedas and six systems of Indian philosophy
Ashtanga yoga (Raja Yoga): Yoga sutras, aim of yoga, modification of mind, mental disposition, different levels of preparation, five afflictions, meaning of OM, Eight limbs of yoga, Kriya yoga, Samyama yoga, Types of Samadhi, Nirbija and Sabija Samadhi
Obstacles on the path of yoga, physical and mental disturbances caused by an un-concentrated mind, means to overcome obstacles, methods to control the modifications of mind
Life style and ethics for a yoga practitioner and teacher
Anatomy
Includes both human physical anatomy and physiology (bodily systems, organs, etc.) and energy anatomy and physiology (chakras, nadis, etc.). Includes both the study of the subject and application of its principles to yoga practice (benefits, contraindications, healthy movement patterns, etc).
Practical anatomy with a major emphasis on muscular and skeletal structures and in depth study of anatomical and skeletal differences i.e. compression, tension, and proportion and orientation theory.
Introduction and different body systems
Skeletal system, mascular system, connective tissue, nervous system, major joints of the body
The foot, knee, pelvic floor, hips, spine, shoulder
Breathing and respiratory system


Business aspect of yoga
Career as a teacher
Setting up your own studio, school or business
Marketing strategy, advertising and PR
Ethics in yoga business
Building network with other yoga teachers, schools , studios and retreats
Daily schedule
| | |
| --- | --- |
| 6.30 – 8.30 am | Monday to Fridays – Ashtanga primary series , Saturdays – Vinyasa Flow or Partner Yoga |
| 8.45 – 10.00 am | Chanting, pranayama and meditation everyday |
| 10.00 – 11.00 am | Breakfast |
| 11.00 – 1.00 pm | Alignment, adjustment, techniques, practicum, methodology, teaching practice |
| 3.00 – 5.00 pm | Philosophy and anatomy on alternate days |
| 5.00 – 6.00 pm | Vinyasa flow on Mondays, Wednesdays and Fridays, Yin or restorative on Tuesdays and Thursdays |
| 6.15-7.15 pm | Wednesdays, Fridays -Themed workshops and posture clinics |
| 7.30 – 8.30 pm | Tuesdays and Thursdays – Optional philosophy classes in question and answer format |
Note: No class on Saturday after 1 pm, Sunday holiday