"Be a light unto yourself."
…The last message given by Buddha to his disciples

The Sampoorna teaching team endeavors to create a supportive and nurturing environment that will enable students to find true health along with a deeper spiritual awareness. Our aim is to create a sensitive, safe and spiritual space where each individual is free to express and explore themselves without expectation or judgment.
Our teaching staff is a unique blend of Indian and International teachers—creating a fusion of cultures, experiences, teaching styles, approach to yoga asana, and a multicultural environment appropriate to the eclectic and international group of students we receive at our center. While our teachers come from a variety of cultures, countries, and disciplines, we are united in our belief that yoga is an ongoing transformation process and uphold this unique blend of East-West influence on yoga that will benefit all with a deeper awareness and understanding of yoga personally and in a global context.
All of our teachers are experienced and qualified and lend their own personal style and experience, while at the same time staying grounded in traditional yoga disciplines.
---
Rishi Sudhir, India

Sudhir Rishi  is the Director of teacher training at Sampoorna. Born in a traditional Hindu family he went on to study Engineering, did Master of Technology in Quality and Reliability, worked as a Total Quality Manager in a leading automobile company in India, but all along was deeply thinking and observing life. At 28 inspired by Buddha and other spiritual masters left his highly paid job, and joined as a Brahmachari (celebate monk) in Ramakrishna Mission. His quest took him to Himalayas. Later  joined Swami Dayananda Ashram, Rishikesh and studied Sanskrit, Vedic Chanting, Scriptures, Commentaries in original and Advaita vedanta. He lived as a monk for 8 years. He learnt yoga from Balananda Brahmachari tradition, Bihar School of Yoga and did his teacher training in Ashtanga from Mysore. Also learnt and practised TM of Maharshi Mahesh Yogi, Vipassana, Osho's techniques and J Krishnamurthy's teachings.  He is into the field of Yoga, Meditation, Philosophy and Ayurveda consistently for the last 23 years, FULL-TIME. Last 15 years he made his home near Sri  Ramana Maharshi Ashram, South India. He has taught around 50 batches of 200hr and 300hr YTTCs, teaching a few thousand students from all over the world. He travels to several countries conducting workshops and retreats.
For Sudhir, philosophy is not a theoretical pursuit but it's a way of life. It reveals higher truths which need to be contemplated, verified, applied and assimilated. He had many transformative spiritual experiences. He loves life and People. He is passionate to share his wisdom and insights with interested people. He believes and it has been his experience that Joy is the nature of oneself and it has no connection to anything whatsoever, and this fact can be discovered too! His simple way of teaching helps one to know oneself better.
---
Veena Sudhir, India
Veena Sudhir is into Meditation and Ayurveda for more than 20 years. By profession she was into computer software, library sciences and applied psychology. By passion, she got naturally pulled into Meditation, Ayurveda, Reiki and Pranic healing. She is associated with Sri Ramanashram, Tiruvannamalai for around 30 years and has spent many years studying, as well as full-time meditation and healing practices.
---
Mine Taylan, Sweden
Mine has practiced yoga and meditation since year 2000 and started teaching over 13 years ago. She opened the first hot yoga studio in southern Sweden in the seaside town of Malmo. To emphasize the constant learning process Mine persists in calling herself a student and her students her teachers. Since her first official teacher training she has taught 6000 hours of classes. As an experienced teacher, studio owner and being that she has taken, participated and taught at a variety of training, she has a broad understanding of different yoga styles, individual needs and differences. These experiences have enriched her with an excellent wealth of knowledge of yoga, alignment, therapy and anatomy which shines in each of her classes. Her compassion for her students and her quality consistent classes makes you leaving each class feeling stronger, healthier, aware and more balanced.
---
Henrik Schmidt, Sweden
Henrik encourages his students to find a practice they can commit to and make it a part of their daily routine. His goal is for students to practice yoga every day and not just asanas, but also pranayama and mediation. Yoga is about transformation; it's not just about the physical postures. It teaches us acceptance and how to concentrate the mind. Henrik believes the most important thing is that we practice with dedication devotion, which leads to an inevitable physical, mental and spiritual change. As we get more flexible in the body, the mind becomes less rigid as well. As we grow stronger, we can stand up for what we believe in and say something when we see injustice around us. As we gain balance on the mat, we find balance in our daily lives. Yoga has taught him not to be so hard on himself, not to take everything so seriously, and that in order to find answers, the journey needs to be an inward journey. The key to wellbeing and happiness in this life is lies inside us. Having taught a lot of different classes and numerous students, Henrik has had the pleasure of seeing tremendous change in those who are devoted to a regular practice. His advice to new students is to find a teacher that speaks to them and go to the classes that work for their body. It is not always easy and oftentimes change can be difficult at first. The good thing is that through yoga we learn that we always have a choice as to how we react to things that happen in our lives. He keeps his classes to be joyful, energetic, challenging, and mind-blowing at times.
Before embarking on his spiritual journey, Henrik worked in the field of finance for several top tier investment banking firms in San Francisco and New York. He is a native Swede, but spent half his life living in the United States. He teaches vinyasa, hatha, yin, partner yoga, meditation, thai massage and draws from several different lineages in his teachings. Some of his main influences include Rusty Wells, Ragunath, Tony Sanchez, and Shiva Nandi. He completed the Sampoorna 300 hour training and is a 500 hour certified Yoga Teacher with Yoga Alliance and also has his own yoga school in Sweden.
---
Nadine Sharkey, UK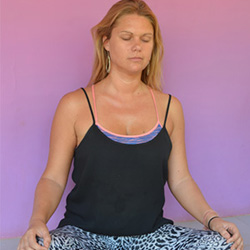 Nadine started doing yoga by accident. After years of doing ballet, shewas looking for something that she could lose herself in. Something that would make the chatter in her head be quiet for a minute or two. Once it turned out that pubs, work and gyms didn't do the job, she tried a yoga class. It was pretty much love at first downward-dog.
16 years later, Nadine is a 500 hour certified Yoga Teacher with Yoga Alliance, having studied with Yoga London in the UK and Sampoorna Yoga in India. She's learned about Ayurveda, meditation, philosophy and anatomy while travelling through Asia and aims to bring this Eastern knowledge to bear in a her own teaching.
When she's not teaching on the 300 hour YTT course here at Sampoorna Yoga, Nadine can be found teaching regular vinyasa flow and restorative yoga classes across London.
You can find out more at www.floweast.me
Nadine is a long term Sampoorna Yoga student who visit us often as Karma Yogi to deepen her own practice, knowledge and teaching skills and share her knowledge with one and all.
---
Angela Jervis-Read, Canada
Sought out by studios around the globe, Angela Jervis-Read E-RYT 500, leads international teacher trainings, retreats and workshops in both the yin and vinyasa traditions.
Known as a cutting edge practitioner that treats PTSD and chronic pain through movement therapy, Angela's seamlessly weaves together Eastern insights with Western science to manipulate the relationship between mind and body. Her inquisitive nature and passion for study has culminated in an eclectic approach that draws on many traditions. She is quick to laugh and always has time for students questions and curiosities.
She is honoured to be a part of the Teacher Training faculty at The Yoga Sanctuary, Spirit Loft and at the Sampoorna Yoga School in India. Angela's work takes her to beautiful places but she is happiest when she is at home with the love of her life and her two sweet dogs. Inspirations both and on and off the mat are: S.M. Goenka, Hali Schwartz, Sarah Powers and Rishi Sudhir.
---
Olivier Charles, Japan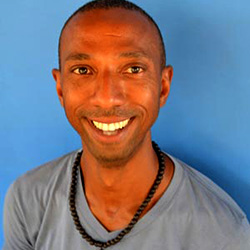 Olivier discovered Yoga while living in London in 2003 and working as a Personal Trainer. Suffering from back pain and running injuries, yoga became an essential tool in his recovery – and later a passion in its own right. A few years later, Olivier travelled to India to pursue his first teacher training with Tribe Yoga and then returned to complete his 500-hour Yoga Alliance certified training with Sampoorna Yoga. More recently, Oliver has completed the Advanced Yoga Anatomy course with Leslie Karminoff and Amy Matthews, building on his understanding of the body and yoga practice even further.
Over the years, Olivier has found that the key to a successful practice is in honouring the physical body's limitations – and moving fearlessly into the possibilities of greater strength and flexibility through patient and persistent practice. He has a light hearted, compassionate and playful approach to teaching, and helps his students grow through self-observation without judgment.
Having spent time teaching on trainings and retreats in India, Europe and Japan, Olivier now owns and runs a yoga retreat centre in West Japan with his wife, Hiromi. He brings an extensive knowledge of yoga anatomy, Vinyasa Flow, Yin, Ashtanga Mysore and Children's Yoga to the Sampoorna Yoga team.
Olivier is a long term Sampoorna Yoga student who visit us often as Karma Yogi to deepen his own practice, knowledge and teaching skills and share his knowledge with one and all.
---
Jenna Donnelly, UK
Jenna teaches Ashtanga Vinyasa Yoga (Primary Series) with passion and integrity and believes Ashtanga Yoga to be a complete system in dealing with the human condition and to quieten the unnecessary thoughts in our minds.
She shares that Ashtanga Vinyasa Yoga is a dynamic mediation to cultivate awareness with Sthira Sukham Asanam (steadiness and ease). With correct use of Ujjayi, Dristi and bandha we can cultivate the awareness and concentration to meditate on the breath, eventually the Sanskrit count; which becomes our mantra.
"Our Yoga is about remembering who we are. Before the questions, before the answers"
Jenna shares teachings directly from her own teacher, who practiced for over 30 years with the founder of the Ashtanga System Sri K Patthabi Jois.
After a family trauma at the age of 8 Jenna started to practice meditation her in bedroom, this then led to development through the 8 limbs of Yoga and finally adding in Asana when she discovered Sampoorna Yoga.
Jenna is currently working on the Intermediate series of her Ashtanga Asana practice.
Prior to sharing the practice, she spent 11 years in England working in the charity sector Advocating for vulnerable people with Mental Health disorder, Learning disability, Autism, eating disorder and brain injury. This led to sharing the Ashtanga Yoga System on a 1-1 basis. Jenna saw the profound affects the teachings had on the people it touched and has continued to share and learn, one breath at a time.
---
Rowie Geraerts, Australia

Rowie's yoga teaching story began in 2011, completing her 200 hour at Sampoorna in their first season and returning in 2014 for her 300 hour. Her personal yoga story began several years before, attending her first yoga class with her father when she was 15.
Rowie has spent a lot of time travelling the world and has been lucky enough to train with some of the most acclaimed international teachers such as Les Levanthal, Megan Currie, Ana Forest, Pradeep Tetioa, Magdelena McWeld, Patrick Beach and Dana Trixie Flynn to name a few.
From vinyasa flow to the slower, stretchy yin training courses, Rowie's classes are strong, challenging, fluid and always a little different. Under her guidance, expect to find a real break from whatever else is going on in your life. From the moment you walk into one of her classes, you can sense that she doesn't take life too seriously, encouraging students to have fun with their practice and enjoy the flow of being in or falling out of a pose with a laugh at the end. No shoes? no worries.
Rowie believes that practicing yoga is life changing in every sense of the word. She loves that it keeps you supple, nimble, and flexible both physically and mentally. As a true believer that yoga can benefit people's lives, Rowie is happiest when teaching.
---
Rowena Johnson, UK
Having always led an active life, Rowena first started practicing yoga asana in 2008 as a means for balancing out her many other physical pursuits. It was not long until the practice began to open up a deeper level of awareness of body, mind and spirit. Soon yoga asana became Rowena's main physical pursuit. After attending a two week Ashtanga retreat with Harmony & Jeff Lichty in November 2013, Rowena returned to London and continued with a daily Primary Series practice, in addition to her already regular Jivamukti practice. These two intense and deeply spiritual practices piqued her curiosity, opening up a desire to deepen her own practice and gain a better understanding of what Patanjali referred to as the 8 limbs of yoga.
It was this desire that propelled her to embark on a 200hr Ashtanga-Vinyasa training, which she completed at Sampoorna in January 2016. Since then Rowena has gone on to practice and study yoga under the guidance of Sharath Jois at KPJAYI in Mysore. In 2017 Rowena went on to complete a 300hr training in the Jivamukti yoga method.
These enriching experiences and all of her teachers are the inspiration behind the style of yoga that Rowena teaches. Combining pranayama, vinyasa and mediation, Rowena's classes focus on awakening the senses, bringing students in tune with their bodies to reveal the strength and grace we all have inside.
---
Joanna Vladescu, Greece
Joanna first started practicing yoga in a studio near her house. Not missing any class, she knew that she had found her way to a beautiful practice, both on a physical and mental level. In her early years, she did a little bit of ballet and modern dancing. She has graduated from University of Athens, Economics Department.
Joanna is a 500 hour certified teacher, having studied yoga in San Francisco, in Crete-Greece and last but not least, with Sampoorna Yoga in India. She mostly practices and teaches Ashtanga, Vinyasa style yoga and has a passion about handstands and being up-side down. During her class, she emphasizes the bandhas, which are the bridge that allow us to take our practice from a merely physical level to practice as inner energy work. She also focuses on the breath, which is more important than the asana. "Never stop breathing". She gives modifications for all body types as she believes yoga is for everyone and everyone has his/her own limitations/possibilities.
She teaches in Athens and at the moment, she is working on the second series of Ashtanga.
---
Alan Ellman, UK
Alan led a rather hedonistic lifestyle up until his discovery of yoga while living in Hong Kong. Although he enjoyed his job teaching English to preschoolers, there was something missing.
After signing up for a free class at his local gym, he never looked back. It was the perfect way to bring some calm into an otherwise hectic lifestyle, and it wasn't long before the shift from party animal to asana addict began. Yoga ignited a passion that had been previously misdirected and kick started a positive new chapter in his life.
Having been so enriched by teaching English previously, it seemed a natural progression to share his new love – and so began his journey at Sampoorna.
Having completed both the 200 hour ashtanga vinyasa and 300 hour vinyasa flow courses at Sampoorna, Alan went on to train in Rocket Yoga with senior teacher Amber Gean.
Alan's style is dynamic and energetic, but playful with a strong emphasis on alignment and breath. He strives for precise technique and movement in his class, always with a focus on well-being and mindfulness.
His personal practise combines vinyasa flow, rocket, dharma mittra and just about anything that gets him on his hands or upside down, where he is happiest.
When not at Sampoorna, Alan lives and teaches full-time in London.
---
 Christina Chung, UK
Chrissie was first drawn to yoga in 2008, at first only with the intention of getting into shape. Completely unaware of how deep the practice would take her – beyond asana and the superficial, yoga began to uncover deeper layers within herself.  She likes to challenge her students with a variety of styles, inspired by vinyasa, yin, and Budokon; allowing room for play, exploration, and huge smiles!
She completed her teacher training at Sampoorna in 2015 and has been sharing her knowledge and infectious energy ever since.
---
Alice Jarret-Kerr, UK
Alice had always used yoga as a yin to her yang exercise but quickly found that the physical aspect was just one of the many benefits the practice offers. She soon realised that yoga helped to reduce exam stress and later, to stay grounded in a busy London Food PR agency.
Alice trained at Sampoorna in 2015 to initially find out more about the practice and deepen her own knowledge before relocating to Australia. She thought the benefits were too good not to share and began teaching in a couple of studios in Melbourne.
She continued to study and trained with yin specialists Markus Henning-Giess and Karin Michelle Sang (50hr TTC) as well as Ashtanga guru Nicky Knoff and yoga injury expert Lois Nesbit.
Later, Alice came back to Sampoorna to train for 300 hours and was able to extend her stay to assist on the 300hr trainings before teaching on the 200hr courses.
---
Martin Sittek, Czech Republic
Martin started his yoga experience in 2009 once he realized that it brings him peace, relaxation and healthy balance to his otherwise sedentary, mundane and stressful corporate lifestyle of then. Starting first with traditional Hatha yoga classes, he later transitioned to more dynamic styles of Vinyasa and Power yoga. He slowly discovered a need for deeper understanding of other aspects of Yoga and that led him to quitting his job and traveling to India in pursuit of proper practice. He never looked back.
After first completing his 200 TTC with Sampoorna Yoga School in Goa, that gave him a solid foundation to his self practice, he continued his learning throughout his travels by attending another 200 hours Yoga training at Kaivalya Yoga School at Mahadevi Ashram in Guatemala. The art of adjustment he learned with renowned Yogi Kamal Singh of Tattvaa Yoga Shala in Rishikesh. Needless to say, most about Yoga he learned from his daily practice of Ashtanga Vinyasa Yoga which he tries hard to maintain for past four years.
Martin is currently teaching Yoga in the Czech Republic.
---
Alec Balfour, Canada
Alec was blessed to be introduced to yoga early in his life (18 years old) in 2011, as a means of rehabilitation and injury prevention after playing high levels of basketball and rugby. However with time the practice became a way of life.
He is a devoted student, practitioner and teacher of Ashtanga. He believes Yoga is an amazing transformative and healing science. No matter what your background, past trauma or injury, it will heal you and set you on right path.
Through listening to your heart, self-acceptance, forgiveness and surrender, one moves from darkness to light.
Alec completed his 200 Hr TTC at Sampoorna and has been teaching ever since. He also has a background in massage therapy and is an anatomy geek. Alec is and will be forever a student.
---
Elizabeth Jane Brumfield, USA
Elizabeth Jane "EJ" Brumfield is an RYT-500 Yoga Instructor, SUP and Yin Yoga certified teacher, Reiki Practitioner and published creative writer from the States.
Since 2013,  Elizabeth has been sharing yoga around the world: from Colorado to Malta to New Zealand to India.
She has assisted 200 hour Yoga Teacher Training's, Yin Yoga Teacher Workshops, Ashtanga Primary Series, created unique Chakra Balancing Workshops, led 4 weeks Beginner Series, taught at Festivals, led Stand-Up Paddle Board Yoga/Adventures and Mountain Top Yoga classes.
Her classes, once described as "poetry in motion", offer heart-felt instruction, challenging sequences, intelligent alignment, zen philosophy, a playful open atmosphere and empowering experience.
Curious about the world at heart, Elizabeth loves to travel, hike mountains, padde-board, write poetry, read fiction and live simply.
---
Note: All the above Yogis are long term students of Sampoorna Yoga. They are also part of our extended training program and come back to share their experience and knowledge, to deepen their practice and enhance their teaching skills.